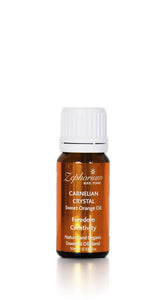 Sacral Chakra - Freedom & Creativity
with Sweet Orange Oil
AFFIRMATION: "I unleash fun and creativity from within me now."
Our Carnelian Crystal Essential Oil Blend with Sweet Orange Oil, Frankincense, and Palmarosa is completely natural and organic and will fragrance any home beautifully.
This powerful combination of Sweet Orange Oil and homeopathic Carnelian Crystal, is said to help bring freedom and creativity into our lives, whilst helping to rebalance the Sacral Chakra. Orange oil is so uplifting and cheery, it is often known as the "Smiley Oil". Refreshing and warming, it helps bring an inner glow back to our lives, encouraging fun and laughter. Combined with the crystal energy of a Carnelian, which is THE crystal for motivation and creativity, keeping us in the present moment, and encouraging vitality. This unique blend is aligned to the Sacral chakra, encouraging flow, non-resistance and acceptance of change. Located at the lower abdomen, this chakra is about feelings, freedom and balanced sexuality. When the Sacral chakra is aligned we feel emotionally stable, passionate and full of expectation for a joyful life.
Directions:
Use either with a carrier oil to create your own massage blends or with an oil burner.
Always dilute aromatherapy oils with a carrier oil 1-3 drops in 10ml oil. Or use a few drops in water in oil burner, do not leave unattended. Do not use if pregnant or breastfeeding or if allergic to any ingredients.
Ingredients:
Helianthus Annus* (Sunflower Oil), Potentised Carnelian Crystal in Citrus Aurantium Dulcis (Sweet Orange Oil). Potentised Carnelian Crystal in Boswelia Carterii (Frankincense Oil). Potentised Carnelian Crystal in Cymbopogon Martini (Palmarosa Oil). Naturally occurring possible allergens: Geranoil, Limonene, Linalool, Citral, Farnesol.
*Organic