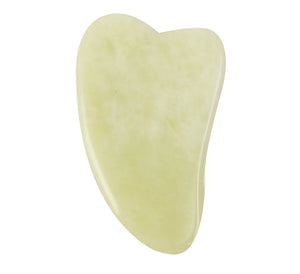 If you do not already have a Gua Sha then you are missing out on a powerful addition to your beauty regime.
Gua Shas have been used for thousands of years in traditional Chinese Medicine. In ancient China, Jade was seen as more valuable than gold, kept in silk-lined boxes for protection and was used by the rich and powerful women of the dynasties to reduce signs of ageing.
In line with these traditions, these White Lotus Jade Gua Shas use only the highest grade Jade, hand-carved and quality checked for the smoothest finish. They also come in beautiful silk-lined boxes with full instructions on how to use them.
Gua Shas can be used to lift and tone the skin on the face, smooth bags and lines under the eyes, stimulate a variety of acupressure points to improve your appearance and reduce pain where needed.

Here are the areas where Gua Sha can help you:
* Circulating - The gentle stroking action increases blood circulation and stimulates acupressure points even if you have very sensitive skin.
* Refreshing - Jade stays cool in contact with the skin closing the pores for more attractive skin.
* Tonifying - Revitalize tired looking skin, reduce sagging, reduce blotches, and refresh the skin below the eyes.
* Timeless – Gua Sha have been used by glamorous and empowered women for the last 1,000 years up until modern times. It's been their "secret weapon" to keep their skin young and supple. Use an authentic Gua Sha tool to energise your skin daily.

* Quality – The company uses 100% of the highest grade pure jade crystal in the traditional silk-lined box- has a lifetime guarantee * with normal usage.
This product was originally designed for therapists to use in their treatments but it can also be bought for personal use at home, and is extremely long-lasting.