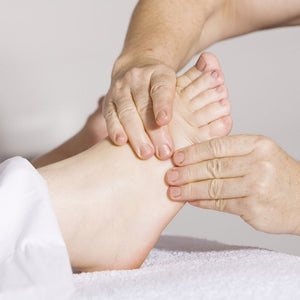 Foot Reflexology Course
Guild Accredited training in Foot Reflexology with Feet First Therapies Training School. Theory completed online before 7 
practical sessions spread over 7 months
.
Available at our Jordanstown location on either a Tuesday or Wednesday evening, 6-9.30pm. Maximum of 6 students per class. 
Jordanstown - Feet First Therapies and Training 
Jordanstown Dates Tuesday or Wednesday evenings. Max of 6 students in each class. 
Tue 6th Sept 6pm-9.30pm


Tue 4th Oct 6pm-9.30pm
Wed 7th Sept 

6-9.30pm

Tue 1st Noc 6pm-9.30pm
Wed 5th Oct 

6-9.30pm

Tue 29th Nov 6pm-9.30pm

Wed 2nd Nov 

6-9.30pm

Tue 10th Jan 6pm-9.30pm

Wed 30th Nov 6-9.30pm

Tue 7th Feb 6pm-9.30pm

Tue 7th March 6-9.30pm

Wed 11th Jan 6-9.30pm

Wed 8th Feb 6-9.30pm

Wed 8th March 6-9.30pm
I have been shortlisted in the top 4 Holistic Schools in the UK the for the last 2 years, out of over 900 in total, so you are guaranteed high quality, professional training and support.

Who is this course suitable for?
*Total Beginners
*Salon/Spa Owners
*Experienced Therapists
*Beauty Therapists
*Adults over age of 18
*Anyone with enthusiasm and passion to learn a new skill or start a new career.
**Please select your chosen location and payment method from the drop down box above.

If these dates do not suit you, you can still register to start your online theory and then join the next set of practical classes**
Reflexology is a gentle, non-invasive therapy that encourages the body to balance and heal itself. It involves applying finger or thumb pressure to specific points on the hands and feet. These points are called reflexes and they reflect, or mirror, the organs and structures of the body as well as a person's emotional health. In this way, the hands and feet are mini maps or microcosms of the body that can be used to encourage holistic healing.
This course will teach you everything you need to know in order to carry out a professional reflexology treatment. The theory is completed online at home in your own time before a practical training session is taken by myself. This means that GTi gives you flexible learning designed to fit in around your lifestyle. Full tutorial support is available throughout your learning experience.
The GTi Foot Reflexology course covers all the necessary anatomy and physiology which you will need to know in order to perform a reflexology treatment and so you do not need to hold a separate anatomy and physiology qualification.
The course also covers reception and consultation, the history and theories of reflexology, contra-indications to treatment and aftercare advice. It also includes detailed technique modules with clear images which show you how to read and interpret the feet as well as how to perform relaxation and pressure techniques.
The course is beautifully written and accompanied by images and a voice-over to give you the best possible learning experience.
The GTi Foot Reflexology course includes the GTi Professional Standards course, usually priced at £49 + VAT, for all students who have yet to complete this course.
The course is fully accredited by the Guild of Beauty Therapists, the UK's leading professional beauty trade body, for membership and insurance purposes. Upon completion of the course, students will receive a certificate for a GTi Award in Foot Reflexology.
I have extended the original Guild Reflexology Course and in addition to what they offer, I have added in:
Extra training hours
Feet First Therapies Manual with more notes and foot charts.
Case Study supervision.
Weekly handouts to cover extra subjects such as:
Foot Reading
Mind/Body Connection
Holistic Health
Aspartame
Chinese Merdian Clock, plus much more.
This course comprises the following modules which must be undertaken in the following order in order to complete the course.
Order Code Name
1 FR001 Introduction, Reception And Consultation
2 FR002 The History of Reflexology
3 FR003 The Skeletal System
4 FR004 The Muscular System
5 FR005 The Nervous System
6 FR006 The Circulatory System
7 FR007 The Lymphatic System
8 FR008 The Endocrine System
9 FR009 The Respiratory System
10 FR010 The Digestive System
11 FR011 Functions of the Skin
12 FR012 The Sensory Organs
13 FR013 The Reproductive System
14 FR014 Theories of Reflexology
15 FR015 Stress and the Effect of Reflexology
16 FR016 Contra-indications
17 FR017 Diseases and Disorders of the Feet and Nails
18 FR018 Contra-actions
19 FR019 Preparation
20 FR020 Reading & Interpreting the Feet
21 FR021 Reflexology Techniques
22 FR022 Pressure Techniques
23 FR023 Treatment Adaptations & Aftercare
24 FR024 Practical Module
Course Fees: 
Full payment upfront £799. 
Payment plan option: ​Total cost £899 to include £100 admin fee, £399 Non-refundable and non-transferable deposit to be paid at time of booking with the remainder to be paid at your practical training classes (£71.42 at each class).
**Once your deposit is paid you are committing to pay the full cost of your training course, even if you do not complete it**
There is also a one-off payment to the Guild of £25 for student membership which will be payable directly to them after you are registered.
If you need to resit your final assessment, there is a fee of £50.
Once you have made payment, you will receive a training agreement form., which should be completed, signed and returned to me. Then text me to 07500334432 with your email address , name as you would like it to appear on your certificate upon successful completion of the course, date of course and venue.
A salon uniform will be required for your practical training day/days.
If you have any queries please do not hesitate to contact me, you can all Andrea directly on 07500334432
Find all upcoming course dates on my Facebook Page