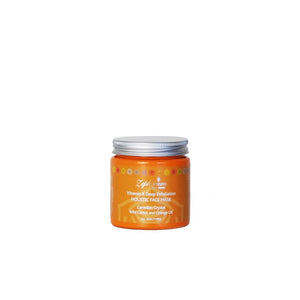 Vitamin A Deep Exfoliation Holistic Face Mask
Infused with Carnelian Crystal - blended with Wild Carrot and Orange Oil
This deeply cleansing wild carrot, orange and clay mask is lightly granulated for a cleansing scrub before it hardens to draw out impurities, leaving skin radiant and fresh. High in natural vitamins and skin boosting anti-oxidant Vitamin A, from pure beta-carotene to give skin a natural glow.
Directions: 2 face masks in 1
For mask that sets: Wash hands. Cleanse face. Mix 1 tsp of powder with 1-2 tsp of warm water into a paste. Smooth or massage onto clean skin repeat affirmation, relax and enjoy. Wash off with warm water. 5 mins for sensitive skin, 10 mins normal skin, 20 mins oily skin. NB Carrot oil will stain light fabrics and flannels.
For non-hardening mask -simply replace water with Zephorium body or face oil. Continue as above repeating Sacral Chakra affirmation:
"I unleash fun and creativity from within me now."
Ingredients: Kaolin (white clay), Zea Mays Starch (organic corn starch), Citrus Aurantium Dulcis Peel (fine orange peel), Daucus Carota (carrot oil) infused in Helianthus annus (sunflower oil), Lllite (red clay ultra-ventilated), Citrus Aurantium Dulcis (sweet orange oil), infused Homeopathic Carnelian Crystal D200, 400, 1000 *naturally occurring Limonene, Geraniol, Linalool, Citral.
Contents 60g Up to 15 masks
NB Carrot oil can stain light fabric. Do not use if pregnant, breast feeding or sensitive to any ingredients.
100% recyclable, plastic free packaging. Vegan friendly.