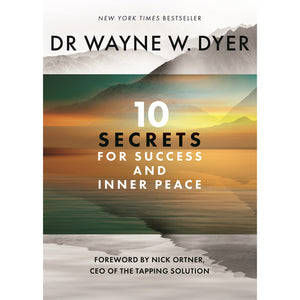 About the Book
Bestselling author and lecturer Dr Wayne W. Dyer has written a thought-provoking book for those of us who have chosen to consciously be on our life path. The 10 'secrets' for success and inner peace presented here apply whether you're just embarking on your path, are nearing the end of it or are on the path in any way. Dr Dyer urges you to read these 10 secrets with an open heart. By doing so, you'll learn to feel the peace of God that truly defines success.
Number of Pages: 99 (Paperback)

About the Author
Dr Wayne W. Dyer was an internationally renowned author and speaker in the field of self-development. He wrote more than 40 books (21 of which become New York Times bestsellers), created numerous audio programmes and videos, and appeared on thousands of television and radio shows. Wayne held a doctorate in education counselling from Wayne State University and had been an associate professor at St John's University in New York. His career spanned four decades, and he maintained a busy schedule hosting lectures around the world right up until his passing in August 2015.