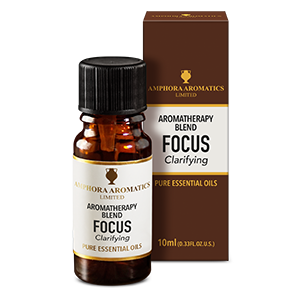 Clear your mind and stay sharp with this clarifying blend of cooling Eucalyptus and spicy Clove. Stimulating Rosemary works with refreshing Bergamot and Lemon to help reduce anxiety and keep you feeling fresh & focused. read less
A touch of Myrrh helps boost positive thoughts.
HOW TO USE
10ml for use in diffusers or burners.
SAFETY
Keep away from children and out of eyes. Do not take internally or apply undiluted to the skin. For further advice on using essential oils to treat medical conditions, we recommend you seek advice from a professional.

Please note that Amphora Aromatics Ltd cannot be held responsible for any injury, illness or adverse reaction to any recipes, instructions or advice given. It is the responsibility of the end user to ensure that they have followed the relevant safety protocols and that they are aware of any possible side effects before use.
INGREDIENTS
Essential oils of Eucalyptus, Clove, Rosemary, Bergamot, Lemon & Myrrh.