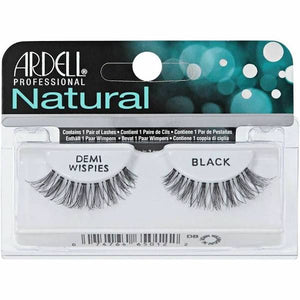 Ardell Naturals combine the outstanding natural look of beautiful, full lashes with total comfort.
Knotted and feathered by hand for an even finish, the hair strands are connected with an invisible lightweight band to form a strip, ensuring secure corners. The result is easy-to-apply, lightweight, reusable lashes. Glamorous yet natural in style, these eyelashes are perfect for large, round, almond-shaped and deep set eyes. Adhesive is sold separately. Completely cruelty-free & vegan-friendly.
How to apply:
Clean your eyelashes and eyelids thoroughly to remove oil and make-up.
Lay the false lash on top of your natural lash. If it extends beyond your natural lash line, trim off the excess with manicure scissors.
Squeeze and spread a thin line of lash adhesive along the lash band and wait 30 seconds.
Carefully place the Ardell lash as close to your natural lash line as possible and apply gentle pressure to secure.