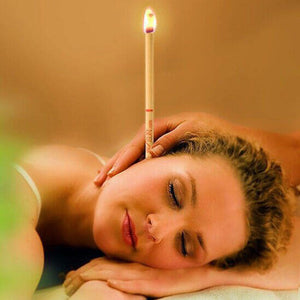 GTi Ear Candling Training Course
Guild Accredited training in Ear Candling treatment. Theory completed online before one-day practical training.
Available at Jordanstown or if you have a group of 4 or more, I can travel to your salon or workplace.
I have been shortlisted in the top 4 Holistic Schools in the UK the for the last 2 years, out of over 900 in total, so you are guaranteed high quality, professional training and support.

Who is this course suitable for?
*Total Beginners
*Salon/Spa Owners
*Experienced Therapists
*Beauty Therapists
*Adults over age of 18
*Anyone with enthusiasm and passion to learn a new skill or start a new career.
Jordanstown - Feet First Therapies and Training
ONE DAY TRAINING is available on the following dates:
Thursday 2nd Feb 2023 10.30-3pm

Thursday 16th March 2023 10.30-3pm

Thursday 4th May 2023 10.30-3pm

Wednesday 8th June 2023 10.30-3pm



**Please select your chosen location and payment method from the drop down box above.
I will then be in contact to confirm the date of class you wish to attend.
If these dates do not suit you, you can still register to start your online theory and then join the next set of practical classes**
Clients who discover the benefits of an ear candle treatment will continue to keep coming back, bringing you a core of loyal, returning customers. The candles work using the process of convection. The burning of the candle helps to draw softer waxes and toxins from the ear. Some of these are then oxidised or turned into vapours and burnt. The warm air from the burning candle passes into the ear canal before being gently drawn back up to the top of the candle in a chimney effect. The warm air containing the herbal extract vapours from the candle helps to soothe and invigorate the ear.
The GTi Ear Candles course covers how to give a full ear candle treatment and covers the history, technique and aftercare of the treatment.
The course also covers reception and consultation, and contra-indications to treatment. It also includes detailed technique modules which show you how to carry out an ear candle treatment.
The course is beautifully written and accompanied by images, diagrams and a voiceover to give you the best possible learning experience.
The course is fully accredited by the Guild of Beauty Therapists, the UK's leading professional beauty trade body, for membership and insurance purposes. Upon completion of the course, students will receive a full-colour certificate for a GTi Award in Ear Candles.
Course Fees 
£159 full payment upfront (Includes comprehensive training manual). 
Payment plan option: ​Total cost £189 (£30 admin fee), £75 Non-refundable deposit to be paid at time of booking with the remainder to be paid at your practical training class.
**Once your deposit is paid you are committing to pay the full cost of your training course, even if you do not complete it**
There is also a one-off payment of £25 payable directly to the Guild once you are registered.
Once you have made payment, you will receive a training agreement form., which should be completed, signed and returned to me. Then text me to 07500334432 with your email address , name as you would like it to appear on your certificate upon successful completion of the course, date of course and venue.
A salon uniform will be required for your practical training day/days.
All products and equipment for training will be provided on the day, including one set of ear candles.
 f you have any further queries please feel free to contact me on 07500334432 
Find upcoming training dates on my Facebook Page
You can also complete 1-2-1 training for an additional £80
Or if you have a group of 3 or more, I can arrange a training date to suit you.
Here are a few reviews from my last course:
My deep gratitude and thanks I give to the beautiful soul that is Andrea Jennings, owner of Feet First Therapies & Training School for her support, love, generosity, teaching & mentoring during my reflexology study & training period. This lady has my respect and admiration for her teaching style & ability & the passion she shares with those in her presence. Fantastic training manual, recommended reading material, handouts and hands on practical learning. Thank you from the soles of my feet Andrea
When you study this beautiful course and have your practical trainings with Andrea - reflexology comes to life !
You don't just get a tutor or mentor, you get all of Andrea's knowledge and expertise.
The course is wonderful, detailed, well planned and structured.
The theory online allows you to study at your own pace. The practicals are detailed and informative and the case studies get you hands-on !
The perfect study package for any therapist or anyone looking to learn a new and wonderful life-long skill.
Definitely value for money !
I
I have recently completed the Ear Candling course with the lovely Andrea Jennings she is an inspiration to any student wishing to develop in the world of Holistic therapies. I am currently completing Reflexology & Indian Head Massage & will be completing other courses with Andrea to add to my business. Andrea is a natural teacher with a wealth of knowledge from her training & experience that she is willing to share with her students I would recommend Feet First Training school to anyone interested in the Holistic Therapy industry. Thanks to Andrea xx
Andrea is such a fantastic tutor & has an obvious passion & deep love for her teaching & the treatments that she provides.. I did Hopi ear candle course & really, really enjoyed it.. I'm 'dipping my toe' back into holistic therapies, after being ill for a few years with breast cancer. Andrea & the other ladies on the course, made me feel so relaxed, as I felt that I had lost the skills I'd previously learned & I was very, very nervous & self conscious.
I would have no problem recommending Andrea to anyone, whether for a treatment or a teaching course.. She goes above & beyond what is expected of her & is a genuinely kind, caring person..