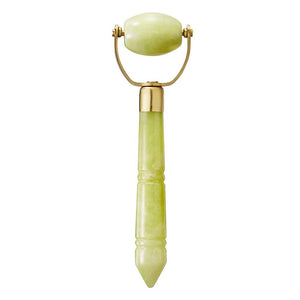 Hand made, designer Jade Rollers in a beautiful white silk lined box.
The Jade Roller is a legend in the field of natural and holistic Beauty. Having been used since Ancient times in China by the privileged and wealthy . Jade is still revered today for its amazing properties in modern day China and indeed now the rest of the world.

Jade is cooling in nature, cold to the touch and feels amazing as it glides across the skin.
It stimulates many acupressure points on the face, leaving one feeling calm and tranquil.
Jade is famous for closing and tightening the pores and associated most strongly with the kidney channel in Traditional Chinese Medicine which is intrinsic with prolonging youth.
This Eastern Beauty Ritual is a mainstay in the households and clinics of modern and illustrious women.
Pure Jade Rollers have a fabulous effect on the skin. Providing the skin with ample skin cell nutrition, draining the lymph and increasing microcirculation: All are vital to vibrant, youthful looking skin.
Not only does it make the complexion glow, it also tones and refines. It is gentle enough to use around sensitive areas like under the eyes and on the throat. It can also be used daily or in conjunction with your treatment regime. It also is wonderful to target fine lines and wrinkles as well as congested and puffy skin.
Many Celebrities famously use Jade Rollers regularly in their beauty regime like Naomi Campbell, Kylie Minogue, Gwyneth Paltrow and Victoria Beckham
This exquisite Jade roller is part of our jewellery grade designer range of crystal rollers and skin tools.
Its petite head is perfectly shaped to roll on difficult places like under the eye.
It has all of the signature designer range traits:

Secure and stable brass brackets to support the roller head
Easy to clean the precious stone by simply removing the crystal roller head from the clips
Purely natural A grade Jade is used to ensure the roller is energised and natural
Our crystals are never chemically treated for purity and beauty
Hand carved from a unique crystal- each roller is special
Delivered in a silk lined box, as Chinese tradition dictates
This extra cute designer jade roller is the perfect addition to your beauty tools and regime.