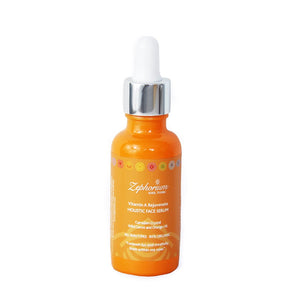 Regeneration with Carrot Oil and Sweet Orange Oil
Sacral Chakra - Freedom/Creativity
AFFIRMATION: "I unleash fun and creativity from within me now."
This rejuvenating face serum has a powerful combination of Carrot Oil, Sweet Orange Oil, Frankincense and homeopathic Carnelian Crystal, said to help bring freedom and creativity into our lives, whilst helping to rebalance the Sacral Chakra.
Loaded with vitamins, this oil rejuvenates the skin by intense hydration in the way nature intended. Carrot oil is THE oil for skin regeneration, along with Apricot oil, its lovely colour also imparts a light glow to the skin.
Orange oil is so uplifting and cheery, it is often known as the "Smiley Oil". Refreshing and warming, it helps bring an inner glow back to our lives, encouraging fun and laughter. Combined with the crystal energy of a Carnelian, which is THE crystal for motivation and creativity, keeping us in the present moment, and encouraging vitality. This unique blend is aligned to the Sacral chakra, encouraging flow, non-resistance and acceptance of change. Located at the lower abdomen, this chakra is about feelings, freedom and balanced sexuality. When the Sacral chakra is aligned we feel emotionally stable, passionate and full of expectation for a joyful life.
Directions:
Use after cleansing and before moisturising, to ensure the skin receives a nutritional boost. Apply morning and night. Cleanse and tone face, put 1-2 drops of oil on fingertips and gently massage oil into skin paying attention to problem areas. Leave to absorb the vitamins for 5 minutes. Apply moisturiser on top to seal in the natural skin repairing qualities of the oils.
Each of our Face Serums come in a beautiful 30ml glass bottle with pipette.
Ingredients: 85% Organic
Natural Ingredients: Prunus Armeniaca* (Apricot Kernel*). Daucis Carota infused in Helianthus Annus (Sunflower oil). Potentised Carnelian Crystal D200 in Citrus Aurantium Dulcis (Sweet Orange Oil). Alpha Tocopherol (Vitamin E Oil). Potentised Carnelian Crystal D 400 in Boswelia Carterii (Frankincense Oil). Potentised Carnelian Crystal D1000 in Cymbopogon Martini (Palmarosa Oil).
Naturally occurring possible allergens: Geranoil, Limonene, Linalool, Citral, Farnesol.
*Organic
NB. Do not use if pregnant or sensitive to any of the ingredients. Can cause photosensitivity. Avoid exposure to sunlight, tanning lights or UV sources. If rash appears discontinue use.